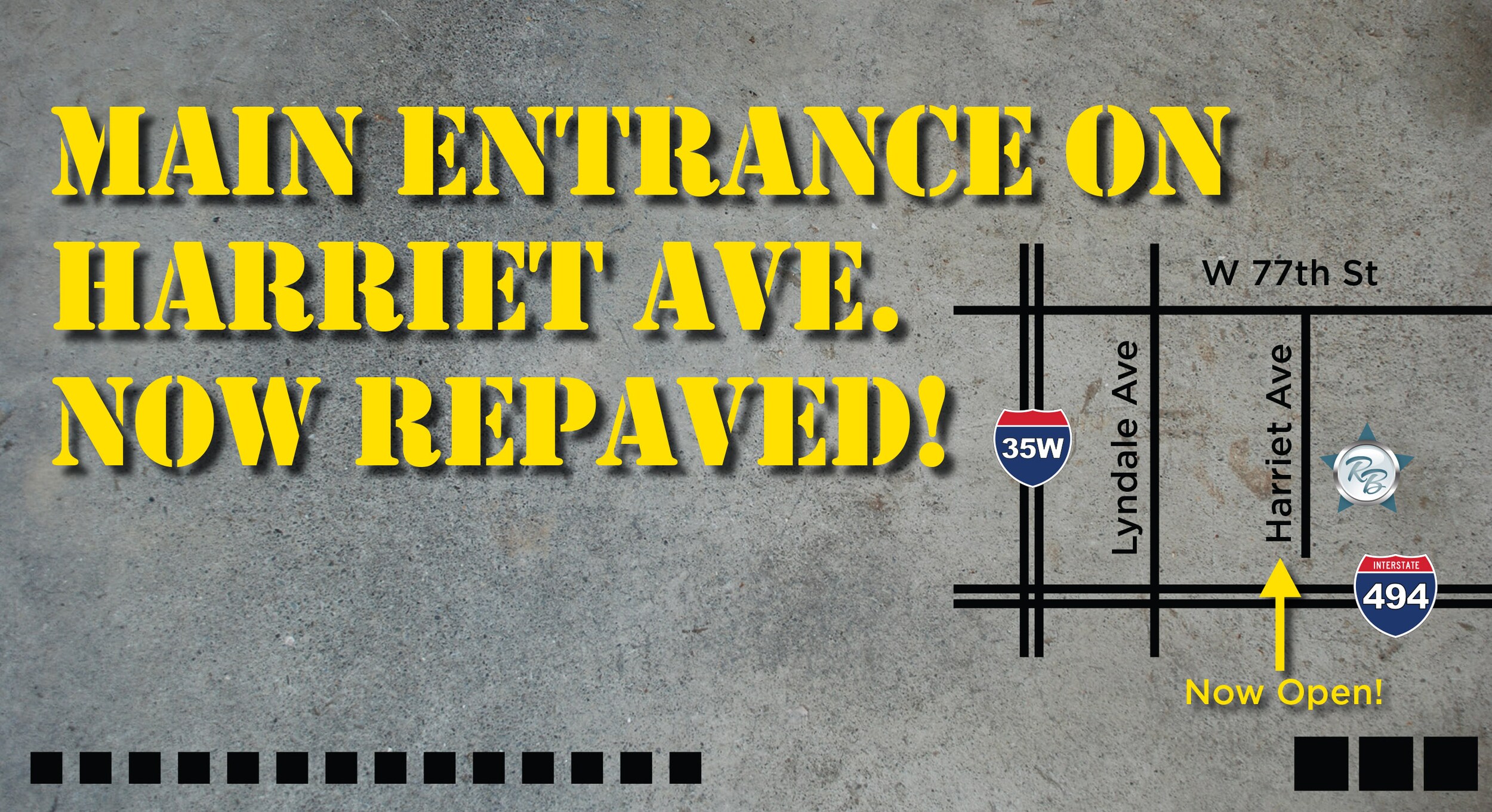 Our main entrance is now open! Enjoy easy entry to RB Honda.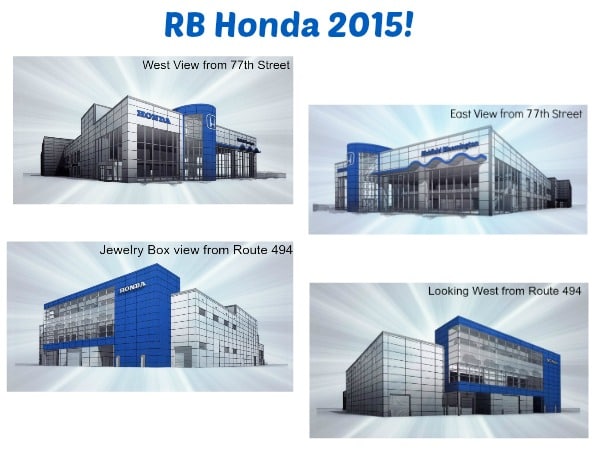 The next phase of the new RB Honda project is happening right now. The week of May 5, 2014 we are beginning the tear down process of the former LaMettry's Body Shop, USA Baby, and Tires Plus facilities. We will be building a one of it's kind 3 story Honda Dealership. That's right, 3 story! We recently decided to add rooftop parking, and we are talking about creating a two story "Jewelry Box" to display 8 of our current Honda Models on the 494 face of the structure. That will be the talk of the town and the Honda world if it happens. My good friends at the Richfield Planning Commission and City Council may get a glimpse of the renderings sometime next month. We will need their approval to get that on the books.
Currently, our Honda Pre-owned operation is in the USA Baby building. We are right now expanding our New Car show floor in the original Honda store so we can house the Pre-owned Sales staff.  This minor remodel will be completed by Thursday 3/27. Then after we close Saturday night, we will physically move everything into the new spot and be ready for business first thing Monday morning. For the next year or so, it will be one stop shopping as we will have all New Sales, Pre-owned Sales, Parts and Service in the original main Honda facility.
The all new RB Mitsubishi Dealership construction is heating up as the brutal winter subsides. That long stretch of below zero temps took it's toll on our poor construction workers and our original timeline. The Spring grand opening date looks to be closer to an early August event. A lot of planning has gone into their next generation building, including level 2 EV charging stations. We are very excited about bringing Mitsubishi over here from Bloomington to share visibility with RB Honda on the same campus.
You may have noticed our main street (Harriett Ave) being a little rough over the past half year. It's due to our agreement with the City to replace the 50 year old main water line under the full length of Harriett Ave. We had to dig up the North third of the street last fall and hoped to button back up with black top by winter, but Mother Nature was not that kind to us. We've spent a lot of energy trying to keep that as smooth as possible. Now that Spring is here, we will be having that re-covered as soon as weather and road regulations allow. Happily, as long as the temps consistently remain above freezing overnight, we will engage our portable "Car Wash" truck and start washing cars on site again. I am very confident many of you will be extremely pleased to hear that!
On behalf of my entire crew here at RB Honda, I express our deep gratitude for your patience, understanding and loyalty throughout our redevelopment. We are exuberant about our future together, including offering you: State Of The Art Capabilities, Unequaled Comfort and Convenience, World Class Customer Service and Superior Products.
I will post updates a little more frequently, so stay tuned! Feel free to re-post to pass the word. This will be most helpful information to those who frequent our store. If you have any questions, please contact me directly at 612.798.8111. 
Have a super day!
Sincerely, 
Tim Carter
General Manager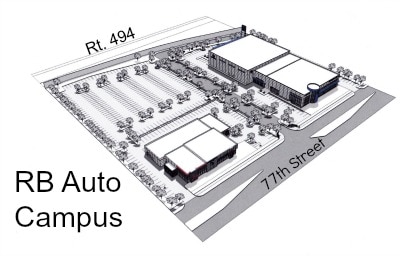 May 2014 - Demo of future RB Honda building begins.

June 2014 - Construction of all new RB Ho

nda dealership begins.




July 2014 - New RB Mitsubishi dealership opens!




Summer 2015 - New RB 

Honda dealership opens and RB Campus is complete!

 
Latest News from The Richfield Sun Current
Expansion plans for a Richfield car dealership are getting more elaborate.
Tear-down work is beginning for three buildings on the construction site of the new Richfield Bloomington Honda, in preparation for the construction of a new dealership facility. While buildings that once housed USA Baby, Tires Plus and LaMettry's Auto Body are being torn down, plans have changed for the three-story facility that will replace them at the site west of Lyndale Avenue, off Interstate 494.
When the dealership announced plans for a 100,000-square-foot expansion last spring, one of the most unique design features was a display case that would jut out from top floor the 494 side of the building, visible to the 143,000 cars that pass by on the freeway every day. Instead of the original one-story design, that display case will now be two stories and house eight cars. That is, if the dealership gets the city's blessing. The Richfield Planning Commission will hear the revised plans Monday, April 28.
The embellishment was the result of another addition to plans. Construction planners determined a need for rooftop parking, and due to work associated with that addition, adding a second floor to the display case could be accomplished for minimal added cost, explained Tim Carter, general manager for Richfield Bloomington Honda.
Carter said no other dealership in the Honda system has such a feature, which will be illuminated at night.
"It's going to be an eye popper, no doubt about it," he enthused. Carter added that he is "pretty confident" the city will approve the plan changes. "I think they're in full support of the project," he said.
The weather, on the other hand, has not been so cooperative. Builders are nearing the end of an accompanying project, a building for a Mitsubishi dealership that will move from Bloomington to the auto campus. An extremely cold winter initially delayed that project by 37 days, according to Jeff Wiater, senior project manager for builder Renier Construction, of Columbus, Ohio. "Even for Minnesotans, some of those guys were saying, 'This is brutal.'Wiater said. "You know when they say it's bad, it's bad. "The delays were expected to push back the opening of the Mitsubishi dealership to early August, but Renier took measures to make the most of the unforgiving weather, now targeting late June for completion, Wiater said. One adjustment was to alter the construction plan so that more interior work took place on the coldest days. "When people are working together you can kind of overcome a lot of stuff and that's what we were able to do," Wiater said. Still, the cold can take its toll on a budget, Wiater said. "When it's that cold it's just like throwing money to the wind," he said.
For the next year, the original Honda building, adjacent to the construction, will house both new and used sales.
 Contact Andrew Wig at andrew.wig@ecm-inc.com or follow him on Twitter @RISunCurrent.
We have a strong and committed sales staff with many years of experience satisfying our customers' needs. Feel free to browse our inventory online, request more information about vehicles, set up a test drive or inquire about financing!
If you don't see what you are looking for, click on CarFinder, fill out the form, and we will let you know when vehicles arrive that match your search! Or if you would rather discuss your options with our friendly sales staff, click on Directions for interactive driving directions from Minneapolis, St. Paul, and the greater Twin Cities area, along with other contact information. We look forward to serving you!