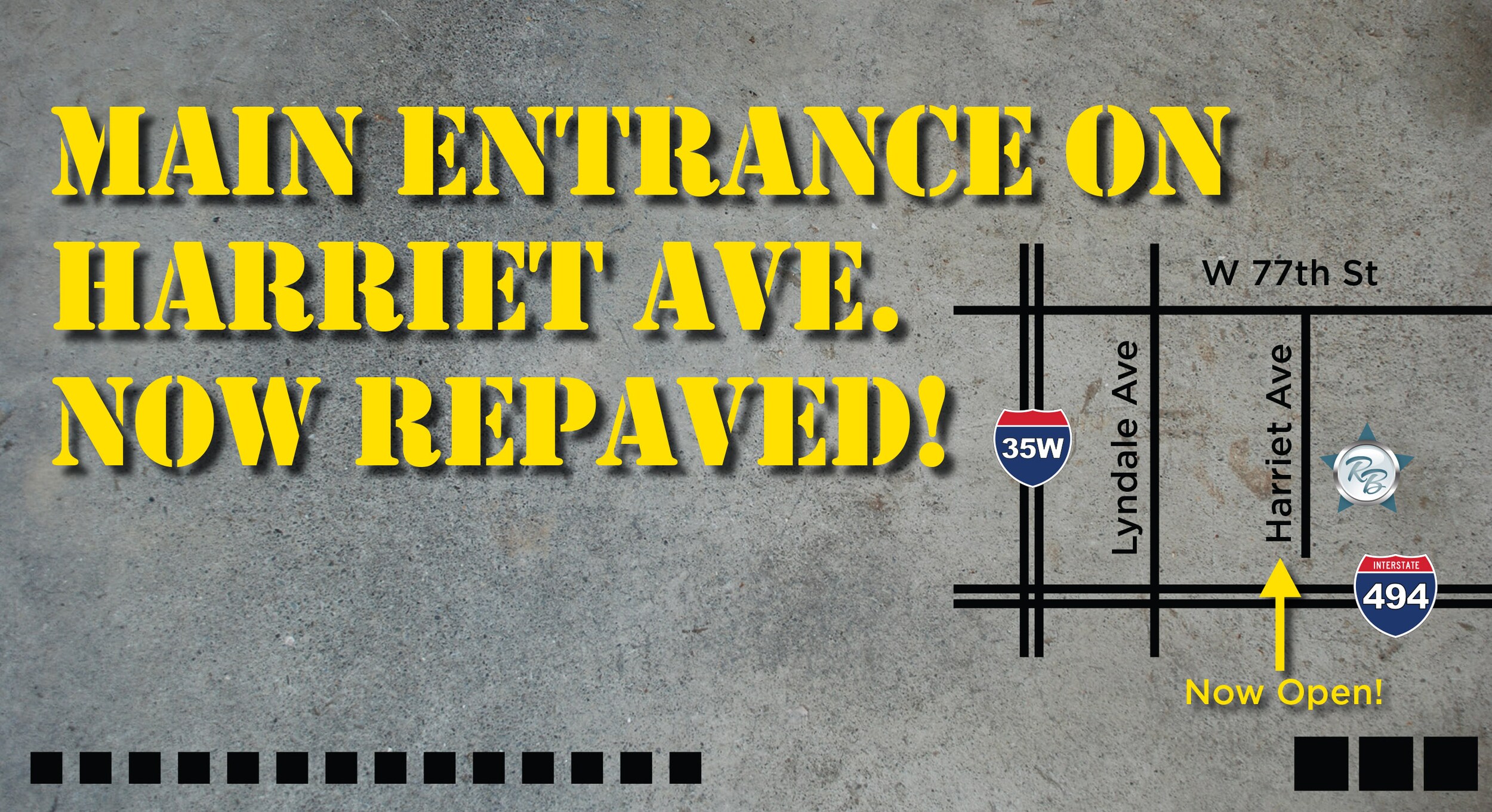 Our main entrance is now open! Enjoy easy entry to RB Honda.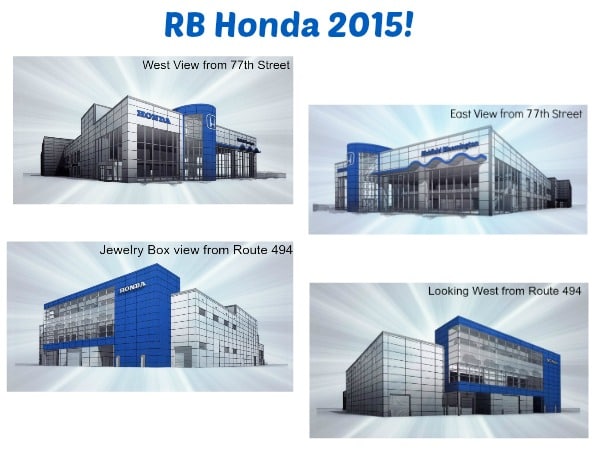 Our sister store Richfield Bloomington Mitsubishi's Grand Opening is August 4th! One down one to go for the RB Auto Campus.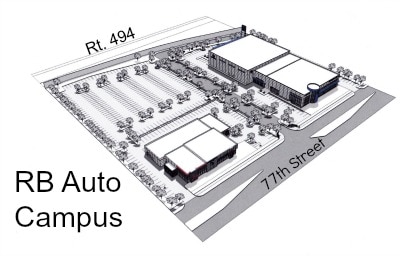 May 2014 - Demo of future RB Honda building begins.

June 2014 - Construction of all new RB Ho

nda dealership begins.




August 2014 - New RB Mitsubishi dealership opens!




Summer 2015 - New RB 

Honda dealership opens and RB Campus is complete!

 
Latest News from The Richfield Sun Current
Expansion plans for a Richfield car dealership are getting more elaborate.
Tear-down work is beginning for three buildings on the construction site of the new Richfield Bloomington Honda, in preparation for the construction of a new dealership facility. While buildings that once housed USA Baby, Tires Plus and LaMettry's Auto Body are being torn down, plans have changed for the three-story facility that will replace them at the site west of Lyndale Avenue, off Interstate 494.
When the dealership announced plans for a 100,000-square-foot expansion last spring, one of the most unique design features was a display case that would jut out from top floor the 494 side of the building, visible to the 143,000 cars that pass by on the freeway every day. Instead of the original one-story design, that display case will now be two stories and house eight cars. That is, if the dealership gets the city's blessing. The Richfield Planning Commission will hear the revised plans Monday, April 28.
The embellishment was the result of another addition to plans. Construction planners determined a need for rooftop parking, and due to work associated with that addition, adding a second floor to the display case could be accomplished for minimal added cost, explained Tim Carter, general manager for Richfield Bloomington Honda.
Carter said no other dealership in the Honda system has such a feature, which will be illuminated at night.
"It's going to be an eye popper, no doubt about it," he enthused. Carter added that he is "pretty confident" the city will approve the plan changes. "I think they're in full support of the project," he said.
The weather, on the other hand, has not been so cooperative. Builders are nearing the end of an accompanying project, a building for a Mitsubishi dealership that will move from Bloomington to the auto campus. An extremely cold winter initially delayed that project by 37 days, according to Jeff Wiater, senior project manager for builder Renier Construction, of Columbus, Ohio. "Even for Minnesotans, some of those guys were saying, 'This is brutal.'Wiater said. "You know when they say it's bad, it's bad. "The delays were expected to push back the opening of the Mitsubishi dealership to early August, but Renier took measures to make the most of the unforgiving weather, now targeting late June for completion, Wiater said. One adjustment was to alter the construction plan so that more interior work took place on the coldest days. "When people are working together you can kind of overcome a lot of stuff and that's what we were able to do," Wiater said. Still, the cold can take its toll on a budget, Wiater said. "When it's that cold it's just like throwing money to the wind," he said.
For the next year, the original Honda building, adjacent to the construction, will house both new and used sales.
 Contact Andrew Wig at andrew.wig@ecm-inc.com or follow him on Twitter @RISunCurrent.
We have a strong and committed sales staff with many years of experience satisfying our customers' needs. Feel free to browse our inventory online, request more information about vehicles, set up a test drive or inquire about financing!
If you don't see what you are looking for, click on CarFinder, fill out the form, and we will let you know when vehicles arrive that match your search! Or if you would rather discuss your options with our friendly sales staff, click on Directions for interactive driving directions from Minneapolis, St. Paul, and the greater Twin Cities area, along with other contact information. We look forward to serving you!